Dorothy Ruth Walker was born in Rosebud, South Dakota on June 8, 1921. Although her father was Raymond Walker, she was raised by her mother Gladys and Step father Ural Walker in the Coriander district of southern Saskatchewan. She attended schools in Coriander and Val Marie.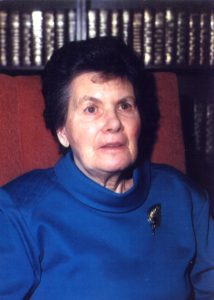 Dorothy married Leonard Larson in 1943 and they had three sons, Robert, who lived most of his adult life south of Mankato, Walter of Brock, Saskatchewan and Kenneth of Palm Springs CA. They lived briefly on the Walt Larson ranch on the Frenchman River and then moved to the Hazelwood Place south of Mankato. They lived there until 1956 she Dorothy and the kids moved back to Val Marie and started a mixed dairy farming operation north of town. Following Leonard's death in 1969 she married Ambrose Walters in 1971. They lived on the farm north of Val Marie until 1991 when Dorothy became a resident at Prairie View Health Centre in Mankato, where she died on Monday, April 28, 1997.
Dorothy lived a rather ideal life removed from the general confusion of today's world, completely involved with the care of her beloved cows, farm animals and garden.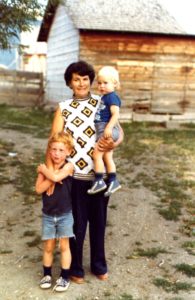 We all remember Petunia, Feline, Penny, Sally, etc. because they were like members of extended family. Dorothy was am awesome cook and many still remember her mashed potatoes, fried chicken, beans, homemade dill pickles and fresh based cinnamon rolls. Everything came with all the farm fresh cream you could eat and everyone was welcome to share what Dorothy had.
Dorothy spent many hours every spring summer and fall tending to her huge garden. She supplied enough corn for the whole family as well as many friends and neighbors. Dorothy was a very giving mother, wife, sister, daughter, mother-in-law and friend. She put everyone else's needs ahead of her own without thought to the physical, emotional and financial cost to herself. She just did what needed to be done without complaint.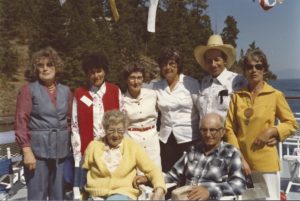 She had the ability to listen without judgement and without giving her own opinion and input.
Dorothy was blessed with nice grandchildren, Leni and Jody Larson, children of Robert and Coleen; Heather and Myros Larson, children of Robert and Berni Larson; Kevin, Brian and Lisa, children of Wally and Paula Larson; and Scott and Derek Larson, sons of Ken and Vice Larson. As off this writing in 2017, she would have had 15 great-grandchildren.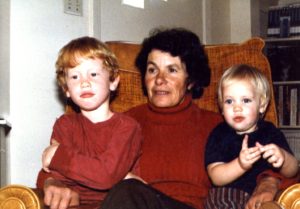 At the time of her passing in 1997 she was survived by her husband Ambrose, all three sons, Robert, Wally and Ken, two great granddaughters and four siblings; her sisters Iris, Helen, Patricia and brother Francis. She was preceded in death by her first husband Leonard, her parents Gladys and Ural Walker; her sister Elaine Croston.
Dorothy also showed many her love for sewing, fabric and color. She taught so many her love for reading and the simple pleasures of the great outdoors.